The driver of an 18-wheeler truck was injured early this morning when he was partially thrown out of the cab of his truck following a 7-vehicle pileup accident in Houston.
According to reports, the pileup began at about 5 a.m. when a pickup truck blew a tire on the North Freeway in Houston, causing other vehicles to slow down. As this happened a suspected drunk driver slammed into a slowing car and sideswiped another. The 18-wheeler driver attempted to swerve to avoid collision, but overcorrected and rolled the truck over. The truck then burst into raging flames that turned that part of the highway into an inferno. The entire highway was shut down as a result.
The driver of the truck, Raul Diaz, was partially thrown out of the cab, and suffered leg, neck, and back injuries. Emergency responders pulled him from the cab as the rest of the truck was on fire. Diaz was taken to a nearby hospital for his injuries.
Thankfully nobody suffered major injuries in the accident.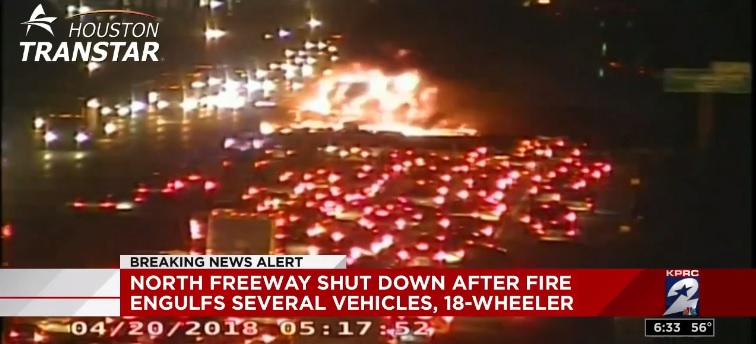 Source: https://www.click2houston.com/news/18-wheeler-several-vehicles-catch-fire-closing-all-lanes-of-north-freeway-at-west-road