3 people were killed in a highway crash in central Arkansas Tuesday afternoon.
According to police, the crash involved two 18-wheelers on Interstate 40 near Carlisle. Their report stated that Jerry Stice, 64, crossed lanes in his 18-wheeler and hit another westbound tractor trailer head-on.
Stice was killed in the crash, as were Jesus Escareno, 47, from Houston, and Mark Lynch, 55, from Magnolia, Texas. Both Houston and Lynch were in the westbound truck.
Police are unclear on how Stice's truck crossed over a wire safety barrier in the median of the road. Arkansas State Police are still investigating the crash.
As seen in the photos below, one of the trucks is clearly a FedEx vehicle. It is not clear at this time which truck Jerry Stice was driving at the time.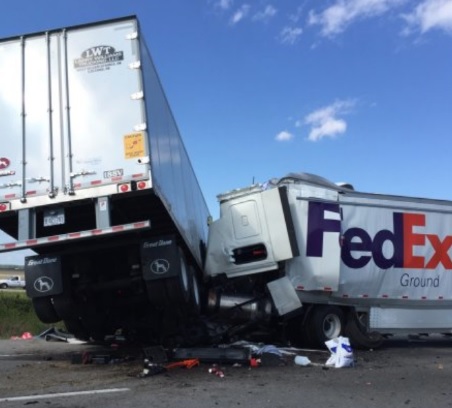 Source: http://www.arkansasonline.com/news/2018/apr/24/least-1-reported-dead-i-40-crash-involving-18-whee/