We offer free case evaluations, and you owe nothing unless we win. Call before time on your case runs out.
Call Now: 214-484-1930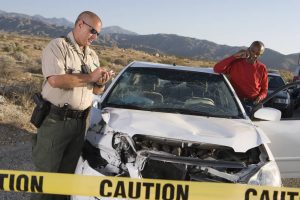 Few auto accidents are more maddening than a hit and run. It is infuriating when someone else shirks responsibility for his own actions, especially when you or a loved one suffers serious injury.
While you might feel like you have nowhere to turn to recover compensation, you do have options. A hit and run lawyer in Dallas at Lovins Trosclair can help you determine what those options are. Call us today to schedule your free case evaluation: 214-484-1930.
How does liability insurance typically work?
As a driver, the Texas auto insurance laws hold you responsible for your own actions on the road. If you cause an accident, it is your insurance company who must pay out to the injured parties.
In some hit and run accidents — if the police find the hit and run driver — you may be able to recover compensation from that driver. Eyewitness statements, video from area businesses, and even your own recollections can help narrow down the make and model of the car and other distinguishing factors. Even partial tag numbers are also helpful.
Unfortunately, this is usually not the case.
How can I get compensation if the at-fault driver leaves the scene?
There are two common ways to get compensation after a hit and run accident in Dallas. These are through your own personal injury protection coverage and your uninsured motorist coverage. Both types of coverage are optional under Texas auto insurance laws, but you must opt out of them in writing to drop the coverage. This means many people carry these policies without even knowing it.
Personal Injury Protection
Personal injury protection coverage covers your medical expenses and a portion of your lost wages. This can come in handy in many accidents so if you do not have it, we recommend getting it.
Uninsured Motorist Protection
In the vast majority of hit and run accidents where the police never identify the at-fault driver, uninsured motorist coverage is the primary source of compensation for crash victims. The amount of coverage available usually mirrors the amount of liability coverage provided by your policy.
To file a claim based on your uninsured motorist coverage, you will need to report the crash to the police immediately and call your insurance company to report the accident as soon as possible. Your insurer will only cover a hit and run if there is a police report detailing the incident, and you can prove that another car hit your vehicle.
There are two types of uninsured motorist coverage used in a hit and run case: Bodily Injury and Property Damage.
Together, these two types of coverage pay for your medical treatment and repairing or replacing your vehicle. Bodily injury coverage does not have a deductible, but most property damage coverage requires a $250 deductible. This means you pay the first $250 to repair your car or replaced damaged items that were inside your vehicle.
The benefits of your uninsured motorist coverage can extend to cover injuries to any passengers in your car or friends or family driving your car at the time of the accident.
You can recover any of the following, up to the limits of your policy:
Medical bills
Cost of rehabilitation and/or physical therapy
Past and future lost wages
Ongoing care costs
Funeral costs, in the case of a fatal accident
Repair or replacement of your vehicle
Car rental costs
Replacement of damaged items in vehicle
Other accident-related expenses
Pain and suffering
Even though you have paid for this insurance and you should be able to use it without any problems, many insurers do not see it that way. Most insurers will do what they can to pay out as little as possible from your own policy. Our attorneys will not let that happen. We know all the tricks insurers use and how to fight against them. We will ensure you get the compensation you deserve.
Are there any other options for compensation?
Uninsured motorist coverage is, by far, the most common way to recover compensation after a Dallas hit and run accident. If you do not have this coverage, however, there may be other options to get the money you need to pay for your medical bills, lost wages and more, as well as to repair your car.
Your health insurance may be willing to pay these costs when you do not have another option. This will require you to pay the deductible and any out-of-pocket costs, based on your individual policy.
How can Lovins Trosclair help me?
Lovins Trosclair can help you explore your options for compensation after a Dallas hit and run accident. While we cannot always locate the liable driver, we can exhaust all possible options to get you the compensation you need and deserve for your injuries. Do not let a hit and run driver ruin your life.
Call our Dallas office today to get started: 214-484-1930.