Jerry Ware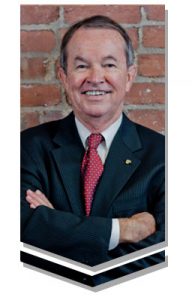 Born in the Cradle of Naval Aviation, Pensacola, Florida, Jerry Ware graduated from Ball High School in Galveston, earned a BBA in Finance from North Texas State University, and entered the Marine Corps as a Second Lieutenant. After military service, he honed his skills in finance as an internal auditor for Redman Industries in Dallas.  Jerry then earned his Juris Doctor degree from Baylor Law School.  He began his legal career in Dallas as an associate of Wilson, Berry, Jorgenson, and Fuqua, representing individuals who had suffered disabling personal injuries.  He then served as the Assistant City Attorney of Denton, Texas.  Jerry then returned to the  private sector as head of the negligence section of Windle Turley, P.C. in Dallas.  He has practiced for several years in Dallas as the sole principal in the Law Office of Jerry Ware, representing individuals and business entities in transactional and litigation matters in Dallas, the State of Texas, the United States, and internationally.
As Of Counsel Attorney to Lovins Trosclair, Jerry brings a breadth of knowledge, experience, and know-how to the Firm in the areas of probate, estate planning, real estate, insurance, domestic and international business transactions, personal injury, wrongful death, and litigation.
EDUCATION AND MILITARY EXPERIENCE
United States Marine Corps, Officer (1969-1971)
North Texas State University (1965-1969)
Baylor Law School (1972-1974)
COURT ADMISSIONS AND AFFILIATIONS
All Texas State Courts
United States Court of International Trade
Federal Circuit Court of Appeals
Northern District of Texas Federal Court
Eastern District of Texas Federal Court
Southern District of Texas Federal Court
Fifth Circuit Court of Appeals
Eleventh Circuit Court of Appeals
State Bar of Texas
Dallas Bar Association
Board Certified in Personal Injury Trial Law by theTexas Board of Legal Specialization (1982-1997)
Licensed as Customs Broker by U.S. Customs and Border Protection since 1997 (Customs Broker License No. 15865)
REPRESENTATIVE MATTERS
Managed the negligence section of a major nationally recognized Plaintiff's law firm based in Dallas, Texas, with responsibility over numerous multi-million cases involving personal injury, wrongful death, and property damage claims.
Represented deceased individual's family in New Mexico federal court in a product liability suit against Ford Motor Company, based on design and manufacturing defects in the 4-wheel drive transmission of a Ford Bronco SUV.  A substantial settlement was reached despite difficult facts, including allegations of intoxication by the deceased.
Markel v. World Flight, Inc., 938 S.W.2d 74 (Tex. App–San Antonio 1996, no writ).  Successful defense of business owner's right to free speech in First Amendment prior restraint case.
Prosecuted hundreds of criminal cases to verdict while the Assistant City Attorney for Denton Texas.
Successfully defended the City of Denton and DPS undercover narcotics agents in a jury trial against claims of false imprisonment and civil rights violations under 42 U.S.C. Sec. 1983 made by Iranian nationals seeking six figure money damages.
Successfully defended Brazilian shipper of petroleum products against claim of general average by Stoltz-Neilsen, parcel-tanker owner, for pro-rata reimbursement for ship's losses when parcel-tanker lost rudder off northeastern coast of Brazil.
Developed classification plan under Harmonized Tariff Schedule that allowed Brazilian company to import natural gasoline into Brazil as a solvent when it would otherwise have been barred from entry into the country as a gasoline blending stock.
Experienced representation before U.S. Customs and Border Protection in challenging import duty assessments made by U.S. Customs on goods imported into the United States and in setting legal precedent in that challenge and appeals process.