What timeline should I expect for the disability application process?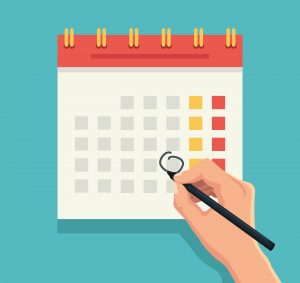 As you probably imagined, there is no set-in-stone timeline for the disability application process. It depends on several factors, such as how many times a claimant has gone through the disability application process. There is no guarantee of a claimant being approved on their first claim.
The initial claim takes anywhere from 30 to 90 days to elicit a decision. Should your initial claim application be denied (most are), then you have 60 days to file an appeal of your denial. This appeals process typically takes about 60 days. Should this appeal for reconsideration be denied, the claimant can appeal again by requesting a disability hearing with an administrative law judge.
This step is often the longest and most frustrating one due to long backlogs. It can often take over a year to get a hearing, but it is well worth it for most claimants. Nationally, about 65% of claims that are appealed to administrative law judges are granted.
There is also an expedited process for claimants that have terminal conditions (TERI process). These claims are typically processed in less than 30 days.
Another expedited process is the Quick Disability Determination (QDD). Claims are placed here if it is determined that it will most likely result in approval for benefits. This is often used for extreme cases that exhibit overwhelming substantiated evidence of injuries.
The Compassionate Allowances process identifies disability claims involving conditions that always meet Social Security's list of impairments. This process is also used mostly in cases exhibiting overwhelming evidence and multiple impairments.