SSI denied my application. Can I appeal?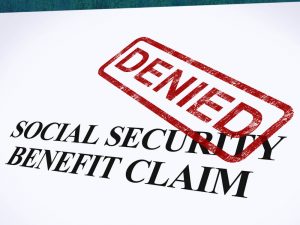 Yes – The majority of SSI applicants are denied on their first try. The chances of a claimant being approved goes up as they move through the appeals process, especially if they get a hearing in front of an administrative law judge.
Denied claimants have 60 days to appeal a denial. There are 4 general steps to the appeals process:
Reconsideration – This is the first step of the appeals process. Unfortunately, the chances of winning a reconsideration appeal are relatively low – about 15 percent. This is because the reconsideration process is overseen by the same examiner who reviewed your initial claim. Most claims are denied unless there is new medical information regarding your condition. Most attorneys handling SSI appeals are fully aware that they have low chances of winning their appeal here – they are simply going through the reconsideration process so that they can move on to a hearing before an administrative judge.
Hearing before an administrative law judge – If your appeal is rejected after a reconsideration review, this is the next step. As with the previous step, there is a 60 day deadline for filing this appeal. Be sure to supplement any new evidence you may have regarding your disability, especially if it relates to your medical condition. Getting copies yourself of any recent records is very helpful, and will be much quicker to do yourself rather than waiting on Social Security to do it. Unfortunately it is often a long time before the hearing takes place, due to backlogs that are typically longer than a year.
Review by the Appeals Council – Should your appeal be denied by an administrative law judge, claimants have the chance to appeal again to a council consisting of over 50 administrative appeals judges and over 50 appeals officers who will determine whether the ALJ made an error in their appeals decision. The council does not evaluate the merits of your claim (meaning they don't consider the medical and vocational evidence) but rather they evaluate whether or not the ALJ made an error in the application of the law. An attorney is especially useful here in looking for possible legal errors made by the judge.The appeals council can deny a request for review (which basically means that the ALJ decision stands), remand the case back to the ALJ and grant you another hearing, or issue a new decision and award you disability benefits.
File lawsuit in federal court – should the appeals council refuse to review your appeal, or should your case be re-heard by the ALJ but end again in denial, then the next step will be to file a lawsuit in federal court. Here you will file an Opening Brief with the Court, analyzing the decision of the administrative law judge and persuading the federal judge that errors were made in the ALJ's review. the SSA can then file a Response Brief defending their position. After this, you can file a Reply Brief to the SSA's Response Brief. At this step a federal judge will consider all arguments and make their decision.